Wamuran Strawberry Grower
Berry Patch Marketing's Ben Davey is extremely pleased he made the decision to try bio-organic liquid fertiliser and soil rejuvenator 'Rural Boss' on his 2016 season strawberry crop. He noticed immediately a lessening of grey mould fungal issues being experienced.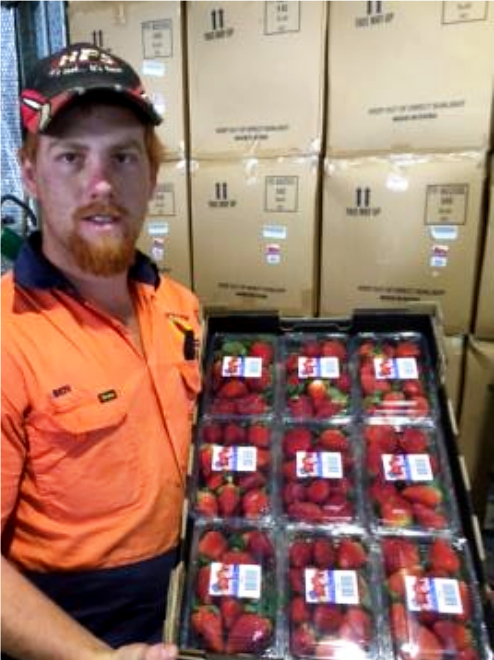 After 2 seasons using RuralBoss Ben has observed the following :
Reduced fungal issues 
We have had really good control of grey mould and powdery mildew immediately after starting to use Rural Boss.
Saves time and money 
No more brewing required as Rural Boss has all of the necessary nutrients and microbial inputs I require and it is very cost effective. I have also been able to save money by cutting back on inputs such as magnesium sulphate and potassium nitrate.
Produces a better quality and sized fruit
Now 8 strawberries to a punnet instead of usual 10 which suits our market perfectly.
Longer shelf life
We send fruit long distances and our fruit is noted for being able to handle long distance travel.
Soil Health Improvin
My soil texture is looking much better with larger soil clods noticeable in previous years broken down into more friable fine aggregates.
Better end of season spray out
Rural Boss has been compatible with our other inputs including herbicides. We have experienced a much higher % kill rate and breakdown of dead plants during end of season spray out, allowing a much cleaner roll up of plastic. The biology in Rural Boss seems to get a more effective uptake of the herbicide in the plant.
Restoring soil biology after fumigation
One thing that has always bothered me, knowing soil
health is such an important part of growing crops successfully, was how to restore microbiology in
the soil after fumigation. Through the use of Rural Boss and cover crops I know I am putting way
more carbon and biology back into the soil and the results are showing in our production.
Increased Production
In 2017 we planted 25% less runners than 2016 season, yet produced 33% more fruit than the previous year and that was after being hit with hail this season.
So Simple to Use
A complete balanced fertiliser and microbial input in one makes life so much easier. Mixes well with other inputs and no blockages.
Strong Start for Growing Season
By adding Rural Boss during cover crop incorporation my soil is in much better condition for plants to thrive in the early stages. I will also be soaking runners in Rural Boss before planting to help develop bigger stronger root systems able to grab nutrients better.
Best Cover Crop Ever
I have never seen sorghum so green and so thick after using Rural Boss with an excellent cover of cow pea among the sorghum (See cover crop information)